Exhibition & Reception
Sunday November 3, 1:30pm – 3:30pm
Dr. Sun Yat-Sen Classical Chinese Garden, 578 Carrall St.
Exhibition: November 1 to 30
Modernize Tailors is the last Chinese tailor shop in Vancouver's Chinatown. Brothers Bill Wong and Jack Wong, whose father first opened the shop in 1913, have run this legendary local business for sixty-five years. As you can imagine, the shop has a long history in the Downtown Eastside; they've created suits for all occasions and all walks of life, from movie stars to lumberjacks. In tribute to their achievement, from November 1 to 30 the Garden hosts an exhibition of pictures, words, suits and other artifacts. The opening reception on November 3 features the first public reading of excerpts from Bill's journal; a diary of daily life in a Chinese village seen through the eyes of a fourteen year old boy, accompanied by the evocative ensemble Silk Road Music. By donation to the Garden.
Click for photos and videos from this event.
---
also:
AFTERNOON DOCUMENTARIES
Saturday October 26, 2:30pm – 5:15pm
Carnegie Theatre, 401 Main 
4pm • Tailor Made: Chinatown's Last Tailors (2008, 60 minutes)
Directors: Leonard Lee, Marsha Newbery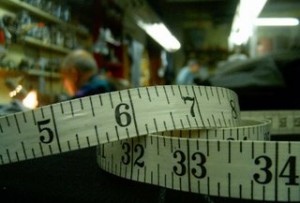 Modernize Tailors opened in Chinatown in 1913, and in the 1950s Bill and Jack Wong took over from their father. Over the years, Bill and Jack created suits for all occasions and for customers from all walks of life. Challenged by the advent of their inevitable retirement, this is a heart-touching Canadian story about legacy and finding a successor for Modernize Tailors, a special place in Vancouver's history. First broadcast on CBC Television.
Yoga
SUNDO TAOIST YOGA 
A Stretch With the Tailors 
Sundays November 10, 17 & 24 10:15am – 11:15am 
Dr. Sun Yat-Sen Classical Chinese Garden 578 Carrall
Steven Wong, certified Sundo instructor and 3rd generation at Modernize Tailors leads a series of Sundo Taoist Yoga classes at the meditative classical Chinese garden. This wisdom from the mountains, cultivates the whole person with physical strength, mental power and good spirits. For fun, fitness and longevity. All capabilities welcome, from chair to mat. To preregister contact the Garden: 604-662-3207. Bring a yoga mat. Series (3 sessions) $30