Open House
Saturday November 2, 12pm – 4pm 
St. James' Anglican Church, 303 E. Cordova
Following the All Souls' Day High Mass, St. James' invites you to their open house: a wonderful opportunity to see first hand the heritage building, to take in a variety of parish activities, and to share some exciting presentations!
12:30pm Sing-a-long
City Opera Vancouver, together with students from the Saint James Music Academy, will lead what is sure to be a very entertaining sing-a-long of Anvil Chorus from Verdi's Il trovatore with real anvils! Like singing in the shower, without the water! City Opera thanks the SFU Vancity Office of Community Engagement for their support. Music and lyrics provided free at the door.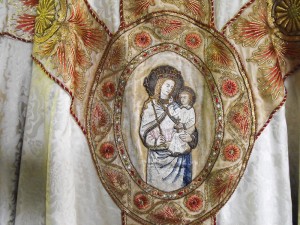 1:15pm Guided Tour
Long-term parishioner Allan Duncan leads a guided tour of this unique church: learn about the church's architecture and the personalities who were involved in its construction in the 1930s.
3pm Play Reading
Sit back, relax, and listen to a dramatic reading of the fifteenth-century morality play Everyman, author unknown. Notables in the cast are UBC English professors Dr. Paul Stanwood and Dr. Leslie Arnovick, and actress Sheila Paterson. The medieval play presents an allegory of the moral struggle all Christians face as their qualities, good and bad, push and pull them toward Heaven or Hell. Come and hear what happens when 'Everyman' finally encounters 'Death'!
Mass at St. James' is a rich experience for all the physical senses! Don't miss the opportunity throughout the afternoon to view a display by the St. James' Sanctuary Guild – 'The Treasures of St. James.' The display features elaborate embroidered vestments, altar linens of handmade lace, chalices, patens, burses, thuribles….you may even come away with a new vocabulary! Free