Workshop
RATTLE MAKING WORKSHOP
Thursday October 27, 10:30am – 1pm
Aboriginal Front Door, 384 Main
Free
Join local artisan and creative maker Tina Eastman for a workshop on how to make traditional rattles using natural materials. Everyone welcome.
---
Exhibition
BIG PRINT PROJECT CHINATOWN
Thursday October 27, 11am – 3pm
Raven' s Eye Studio, 456 E. Hastings
Free
See description Wednesday October 26
---
Art in the Streets
STREET VENDORS IN THE ATRIUM
Thursday October 27, 11am – 6pm
Also on Friday October 28
Woodward' s Atrium. 111 W. Hastings
Free
The Street Vendors Collective is a new initiative of the Carnegie Community Centre. The goal is to introduce a safe mobile vending strategy to the Downtown Eastside in order to achieve more vending opportunities for residents. For the past month, they have been working in the community to develop an independent, sustainable and peer managed group, now under the name Street Vendors Collective. The pilot project includes the use of mobile vending carts and stationary tables that are licensed for legal vending by the City of Vancouver. Currently, the group consists mostly of artists who are looking for a legitimate outlet to sell their work. They create jewelry, paintings, poetry, and more. Check it out in the Atrium; it's a pop-up market!
---
Radio
WORLD POETRY CAFÉ
Thursday October 27, 1pm – 2pm
Live Broadcast Co-op Radio 100.5FM
Ariadne Sawyer, host of World Poetry Café, is pleased to celebrate the Heart of the City Festival with poetry, interviews, creative tips and music. Today Ariadne welcomes the multi-talented and fascinating Ramon Flores Trovador. Born in Nicaragua, Ramon is a musician, troubadour, songwriter, journalist, director and producer of the Co-op Radio morning show called "El Bus de las 7" or "The 7 o'clock Bus." He is the founder of a Vancouver-based movement of troubadours called "La Trova Nuestra" and continues to guide a new generation of artists fighting for social justice through arts and culture.
---
Music
HASTINGS STREET BAND
Thursday October 27, 1pm & 2pm
Starts at Carnegie, 401 Main
Free
It's music in the streets! Join the Hastings Street Band and their upbeat New Orleans style jazz and blues. Led by multi-instrumentalist and composer Brad Muirhead, the band is composed of enthusiastic Downtown Eastside-involved amateur and semi-pro musicians playing with professional musicians from across Vancouver.
---
Cultural Sharing
ABORIGINAL TRADITIONS AND CRAFTS
Thursday October 27, 1:30pm – 3:30pm
Carnegie 2rd floor Gym, 401 Main
Free
To celebrate the Heart of the City Festival, the Carnegie
Community Centre's Cultural Sharing program and various community groups have come together for an afternoon of sharing and learning of Cultural Traditions and Crafts including: Culture Saves Lives (PHS), Native Courtworkers (NCCABC), First Nations Mental Health (VCH), Battered Women's Support Services (BWSS), Native Education College (Family and Community Counselling program), Oppenheimer Park (COV) and Carnegie Reading Room & nə́c̓aʔmatct Strathcona branch (VPL). Drop by for an exciting afternoon to meet and connect with community groups to make a craft, sing-a-long, learn about the Pow Wow drum, the protocols of smudging, teachings of the Medicine Wheel and more! This event to open to the public – everyone is welcome!
---
Workshop
REALMS OF REFUGE DROP IN
Thursday October 27, 1pm – 4pm & 6:30pm – 9pm
InterUrban Gallery, 1 E. Hastings, entrance on Carrall
Free
See description Wednesday October 26
---
Spoken Word
POETRY CAFÉ
Thursday October 27, 3pm – 6pm
EWMA Studio, 800 E. Hastings
Free
Join Enterprising Women Making Art (EWMA) for the Poetry Cafe, a community open mic that showcases EWMA artists and community members in an afternoon of poetry and spoken word. All are welcome to participate! Special guest writer/reader is Sonja Larsen, whose first book Red Star Tattoo was just published by Random House Canada. Sonja works with youth just down the street at Ray-Cam! EWMA is a program of Atira Women' s Resource Society that blends art, creativity and entertainment. For more information go to www.atira.bc.ca/enterprising-women-making-art or on Facebook. We welcome the neighbourhood to a family friendly community celebration, all ages!
---
Cultural Sharing
ABORIGINAL FEAST
Thursday October 27, 5pm – 7:30pm
Carnegie Theatre, 401 Main
Free, but ticket required (See below for ticket information)
The Carnegie Community Centre Cultural Sharing program
is a community program that comes together every Monday evening in the Theatre. It provides a safe and warm place for people to connect over coffee and snacks, listen to Aboriginal music, access craft experiences and participate in a variety of workshops based on Indigenous culture and art. The participants of Cultural Sharing are a group of Aboriginal people from British Columbia and across Canada. The Cultural Sharing group speaks many languages and have many different traditions and customs. The Cultural Sharing group respects and learns from one another around our differences on unceded Coast Salish Territory.
The Carnegie Cultural Sharing Program invites you to share in our Aboriginal Feast. Our feast is a time to celebrate the Heart of the City Festival and the Carnegie Community Centre coming together as a community to share food, music and song.
The evening will provide a wonderful Feast menu prepared by the Carnegie Kitchen and served by Carnegie Centre volunteers. The Festival event will present singers and drummers from the community and beyond. Our emcee for the night will be Carnegie Community Centre's first "Elder in Residence" from the Kwakwaka'wakw – Leslie Nelson. Harmony of Nations, Culture Saves Lives Drum group, and dancers and many more artists will contribute to a memorable Heart of the City Festival Feast.
Admission is free, but you will need a ticket for the dinner. Tickets are available on a first-come, first-serve basis at the Cultural Sharing group on the afternoon of Monday October 24. Any remaining tickets will be available at the door of the Theatre on a first-come, first-serve basis.
---
Workshop
TBD: THEATRE WORKSHOP with Ippolito Chiarello
Thursday October 27, 7pm
Djavad Mowafaghian World Art Centre, SFU Woodward's, 149 W. Hastings
Free
This theatre workshop is part of a context-based, performative, collective research project with Ippolito Chiarello and his homeless theatre allies, community collaborators and SFU theatre students; co-curated by Alessandra Pomarico. The research project aims to offer an alternative way to read and map neighbourhoods as a platform allowing different narratives to unfold. Guest residency artist, actor, director and teacher Ippolito Chiarello has developed the concept of a homeless theatre in which actors become collectors of untold stories. This workshop explores the street as a stage that brings theatre back into daily life, creating a space where the hardest issues of society can be discussed openly in a public space. The TBD Project (To Be Determined) will unfold over the residency period of October 24 to November 5. Presented by SFU's Vancity Office of Community Engagement. Everyone welcome!
---
Reading & Writing
POETRY IS IN THE EYE OF THE BEHOLDER
Thursday October 27, 7pm – 9pm
Gallery Gachet, 88 E. Cordova
Free
Where do the mind' s eye and poetic heart meet? To celebrate their ninth season, the Thursdays Writing Collective invites you to join them as they explore the overlap between words and images. Guest Jordan Abel, a Nisga'a experimental writer from BC, will read from his highly visual and critically compelling work, followed by writing prompts and open mic. Bring your pens and notebooks for this event of live reading and writing. Thursdays Writing Collective runs free, drop-in creative writing classes at Carnegie. After nearly nine years as the director, Elee Kraljii Gardiner has passed the creative torch to Amber Dawn, a writer and teacher living in the V6A. For more info: www.thursdayswritingcollective.ca
---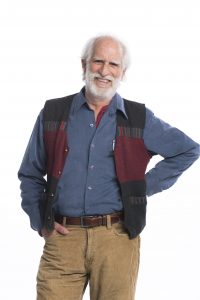 Radio
ARTS RATIONAL
Thursday October 27, 9pm – 11pm
Live Broadcast Co-op Radio 100.5FM
Interviews and commentary on the local arts scene. Including theatre, art house and commercial cinema. Serious music, dance and movement. What's on at galleries and festivals of all kinds. With Host Jay Hamburger, tonight' s guests include actors from Theatre in the Raw' s Production of The Threepenny Opera; Susanna Uchaitus, Artistic Director of Theatre Terrific; and Maggie Winston, clown performer in The Assembly and the new program liaison for the 13th Annual Heart of the City Festival. Tune in and learn about the best of local theatre happening now.