Open House
VANCOUVER POLICE MUSEUM
Saturday November 5, 10am – 5pm
Vancouver Police Museum, 240 E. Cordova, 2nd floor
Free admission
See Friday November 4 for description.
---
Community Celebration
SURVIVORS TOTEM POLE RAISING, POTLATCH WITNESSING CEREMONY & INTERCOMMUNITY STORYTELLING
Saturday Nov 5
11:30am, gather at Main & Hastings;
12pm procession to Pigeon Park;
12:20pm Pole Raising and Ceremony;
3pm (estimated) Entertainment and Refreshments
Pigeon Park, E. Hastings and Carrall, Coast Salish Territories
Free
Come celebrate with us!
The Festival is honoured this year to partner on the installation of the 27ft Survivors Totem Pole in Pigeon Park. In the words of pole carver Skundaal Bernie Williams (Haida/Coast Salish), this grass roots initiative led by Sacred Circle Society "honours the many people who have arrived and lived in the Downtown Eastside as survivors." Skundaal is the only female apprentice of the renowned carver Bill Reid. The events of the day include a procession of the Survivors Totem Pole from Main Street down Hastings to Pigeon Park followed by the ceremonial pole raising, arts and craft sales by local artists, and a celebration featuring local artist Sound Tribe and Dani & Lizi among others. Bring your drums and regalia. Presented with City of Vancouver, Vancouver Board of Parks and Recreation, Portland Hotel Society and Potluck Café.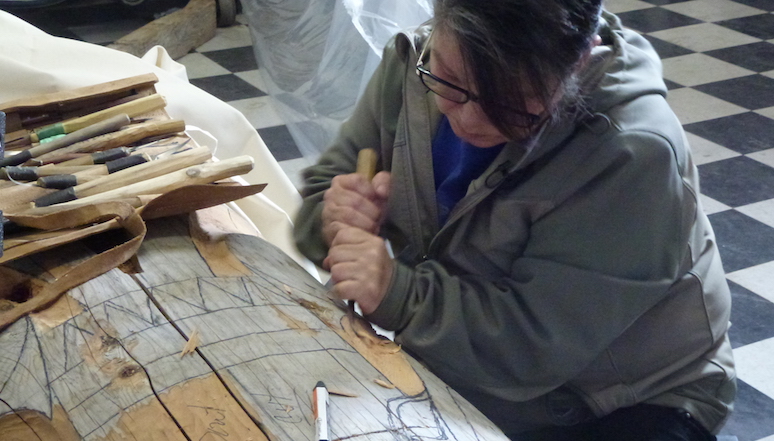 ---
Demonstration & Workshop
SOIL TO SKY: Final Celebration and Flight Day
Saturday November 5, 1pm – 4pm
Trillium North Park, False Creek East, Malkin & Thornton
Free
Visit Trillium North Park to help assemble kites made of components from local urban parks and gardens: paper from bark in Strathcona gardens, kite-line from our local linen with bamboo frames and 'local glue.'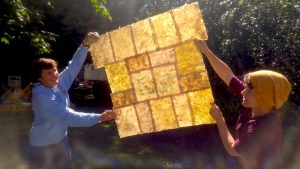 The kites are almost flight ready – just some assembly required! You can also help Melodie Flook finish a community art project and weave crocheted rope made from local plants onto a fence. Light refreshments served with music from the Hastings Street Band. The eartHand Gleaners community brings many people together to share skills and research traditional knowledge and calls Trillium its semi-permanent home. Dress for the weather as we are outdoors under shelter, kite flight possible with weather cooperating. Find out more at earthand.com.
---
Song
CARNEGIE SING ALONG CHOIR
Saturday November 5, 6:30pm – 9:30pm
Carnegie 3rd Floor Gallery, 401 Main
Free
The Carnegie Sing Along Choir, led by local guitarist Mike Richter, meets regularly twice a week to raise their voice in song. For the Festival they bring the regular session to you, the audience. It's a choir! It's a sing-along! Pull up a chair, find the lyrics or the sheet music, and raise your voice with the Sing Along Choir. We are harmony!
---
Showcase
DTES POETS CABARET & OPEN MIC
Saturday November 5, 7pm – 9:45pm
Carnegie Theatre, 401 Main
Free
Downtown Eastside poets and writers meet on the first Saturday of every month to read original poetry, plays, prose and works-in-progress. The evening is free, it's friendly, and it's packed with local talent both on the microphone and in the audience. Featured guest for the evening is Maxine Gadd, a longtime fixture of Vancouver's poetry scene and a resident of the DTES. Maxine's writing engages with contemporary art and critical movements, alongside a connection to neighbourhood and locality. Sign up for a ten-minute spot at the Open Mic. Hosted by Diane Wood.
---
Theatre
WILD STATE
Saturday November 5, 7pm & 9pm
SFU Woodward's, 149 W. Hastings, Outdoor Courtyard off Cordova
See also November 6
Student $7, Senior $10, General $15
After 451 days lost at sea, a wayward group lands on an unknown shore. As they begin to piece together the circumstances that brought them to where they are now — as well as what will become of them in this new, unfamiliar place — one by one, they are taken.
Inspired by a large Japanese dock that washed
up on Agate Beach in Oregon fifteen months after an earthquake and tsunami struck the northeastern coast of Japan, Wild State explores the plight of the many invasive species on the dock that survived what should have been a fatal journey. Created and performed by SFU's School for the Contemporary Arts theatre performance students: Kimi Clark, Jessica Del Fierro, Amanda Sum, Eddy van Wyk and Johnny Wu. Directed by Maiko Yamamoto. Ticket info: whatson.sfu.ca
---
Television
DTES MUSIC THEATRE SHOWCASE Part Two
Saturday November 5, 11pm – 12am
Shaw Cable 4
"Shamelessly promoting our friends and community!" Presented by ACCESS Television, community television in Vancouver BC that focuses on marginalized voices and produced by volunteers. This year, ACCESS TV broadcasts a wonderful re-edited broadcast of the DTES Music Theatre Showcase presented during the 2009 Heart of the City Festival on stage at the Russian Hall. Part One will broadcast Oct 24 (midnight), Oct 25 (8pm), Oct 29 (11pm) and Oct 30 (3pm). Part Two will broadcast Oct 31 (midnight), Nov 1 (8pm), Nov 5 (11pm) and Nov 6 (3pm).
See full description Monday October 31