Exhibition
BIG PRINT PROJECT CHINATOWN
Monday October 31, 11am – 3pm
Raven's Eye Studio, 456 E. Hastings
Free
See description Wednesday October 26
---
Radio
WHEN SPIRIT WHISPERS
Monday October 31, 1pm – 2:30pm
Live Broadcast Co-op Radio 100.5FM
In the landscape of reconciliation, through truth telling and artistic practice, Gunargie O'Sullivan focuses on the current relationship between Canada and First Nations in urban Vancouver. Gunargie has been dedicated to community and campus radio since 1989 and attributes her knowledge to the many guests and community that sit in chairs across from her. Gunargie's guest today is Renae Morriseau, from Treaty One territory who has made her home on Coast Salish shores for over thirty years. Renae will talk on artistic and cultural projects that actively strive to shed light on Truth and Reconciliation in this time we are in today.
---
Open House
JIM GREEN RESIDENCE 20TH ANNNIVERSARY
Monday Oct 31, 1pm – 4pm
Jim Green Residence, 415 Alexander
Free
The Lookout Society's Jim Green Residence celebrates its 20th anniversary with a neighbourhood open house. Learn about Jim Green and his legacy in the Downtown Eastside, celebrate the season with Hallowe'en treats and activities, balloon art with Swallow Zhou, and enjoy musical entertainment from community favourites Brad Muirhead and the Hastings Street Band. Festival themed art exhibition and historic talk on Jim Green will take place throughout the day. Refreshments will be served. Costumes optional. Everyone welcome!
---
Showcase
WOMEN ROCK
Monday October 31, 2pm – 2:30pm
Carnegie Theatre, 401 Main
Free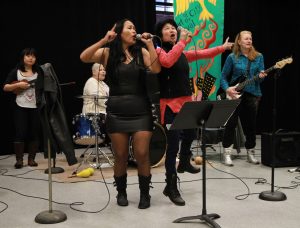 Women Rock is a fun, encouraging, and accessible forum for women from the Downtown Eastside to learn to play rock music instruments and to collaboratively write their own songs. Funded by the non-profit Instruments of Change and led by multi-instrumentalist and artist facilitator Geetha Subramaniyam, the women meet each Monday, at the Carnegie Centre, from 12:30 – 3:30pm. They showcase their creative work at the end of each 12-week session in a Carnegie Theatre performance. This diverse group of budding musicians is thrilled to be back in the Heart of the City Festival to share their passion for music with their community. For more information www.instrumentsofchange.org
---
Community Celebration
ORANGE & BLACK PARTY

Monday October 31, 4pm – 5pm
Ray-Cam Cooperative Centre, 920 E. Hastings
Free
It's Hallowe'en and what better time to find a costume, paint your face, have some fun and enjoy many good tricks and treats. Join the gang at Ray-Cam for games and other entertainment. Swallow Zhou will be there to twist wondrous balloon art creations. Especially for children and families.
---
Community Celebration
CARNEGIE HALLOWE'EN DANCE & COSTUME PARTY
Monday October 31, 7pm – 9:30pm
Carnegie Theatre, 401 Main
Free
Tonight is Hallowe'en and the spooky Carnegie
Centre invites you to put on your most frightful face and your most inventive costume, and dance with the goblins and ghouls in this seasonal dance! Featuring the music of The Usual Suspects. Brush up your scary moves and join the souls at Carnegie for a bone-rattling dance. Wear a costume to win a prize!
---
Television
DTES MUSIC THEATRE SHOWCASE Part Two
Monday October 31, 12am – 1am
Shaw Cable 4
This year, ACCESS TV broadcasts a wonderful re-edited program of the DTES Music Theatre Showcase produced by Vancouver Moving Theatre and presented during the 2009 Heart of the City Festival on stage at the Russian Hall. The production features over 30 local DTES involved residents singing an extraordinary collection of original songs produced in the Downtown Eastside, including memorable songs from The DTES Community Play (VMT/Carnegie), Condemned: The Opera (Carnegie), Bruce: The Musical (Theatre in the Raw), The Returning Journey (Dalannah Gail Bowen), DTES Romeo and Juliet (VMT), East End Blues & All That Jazz (VMT), and We Are All In This Together (VMT). Part One will broadcast Oct 24 (midnight), Oct 25 (8pm), Oct 29 (11pm) and Oct 30 (3pm). Part Two will broadcast Oct 31 (midnight), Nov 1 (8pm), Nov 5 (11pm) and Nov6 (3pm).