Book Launch & Celebration
INVISIBLE HEROES: Aboriginal Stories from Vancouver's Downtown Eastside
Thursday October 29, 1pm – 3:30pm
Carnegie Learning Centre, 3rd floor, 401 Main
Free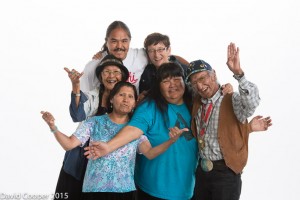 The beloved Carnegie Learning Centre is launching its new book Invisible Heroes: Aboriginal Stories from Vancouver's DTES. This book is a collection of stories from our 'Invisible Heroes', a group of community-nominated aboriginal community members who are making daily positive contributions in many areas of neighbourhood life. The 'Invisible Heroes' group met for six months to explore storytelling and to reflect on personal journeys: their stories document the personal and the political. The book will be made available to learning centres across the country as curriculum material that reflects the experience of inner-city aboriginal community members. Join us in celebrating the launch of the book, and the courage and resilience of our 'Invisible Heroes.' Meet the authors, hear their stories, join in the discussion. Stanley Paul, one of the Invisible Heroes, is featured on this year's Festival program guide cover!
---
Workshop
REMEMBERING OUR DTES WOMEN
Thursday October 29, 2pm – 4pm
Also October 30
Oppenheimer Park, 488 Powell
Free
The Vancouver Public Library is working with community members to develop Remembering Our DTES Women: The Stories Behind the Women's Memorial Quilt, an online gallery where the quilt can be shared by friends and family alike from anywhere in the world. Community and family members who knew and cared for these women made the Women's Memorial Quilt with love and respect, and carry it in the February 14th Annual Women's Memorial March.
Diane Wood and Rosemary Georgeson will lead craft workshops to create a memorial altar to honor our murdered and missing friends; add your voice to this living memorial to our women. A celebration of life will be held on Monday November 2 in collaboration with Watari and VPL in Oppenheimer Park. For more information about the project or this event, leave a message for Diane or Rosemary at the Carnegie front desk.
---
Workshop
WOMEN'S ZINE WORKSHOP SERIES
Thursday October 29, 2pm – 4pm
EWMA Studio, 800 E. Hastings
Also Thursday October 22, November 5 & 12
Free
See Pre-Festival Events for full workshop description.
---
Workshop
OPPEN-ARTS STUDIO
Thursday October 29, 2:30pm – 4:30pm
Oppenheimer Park, 488 Powell
Free
Come to the park and the Oppen-Arts Studio for last minute Hallowe'en costume making. Led by Park staff member Kazuho Yamamoto.
---
Exhibition & Reception

HAND IN HAND WE JOURNEY TOGETHER
Closing: Thursday October 29, 5pm – 7pm
Listening Post, 382 Main
Free
Lead artist Karen Thorpe and community participants welcome you to the closing reception of Hand in Hand We Journey Together, a project funded by Neighbourhood Small Grants. Through a simple art project that involves making plaster hand casts, people found the opportunity to express a tender and personal statement of who they are through their hands.
---
Showcase
OPEN SPACES: THE MUSICAL
Thursday October 29, 5:30pm – 7:30pm, doors open 5pm
UBC Learning Exchange, 612 Main
Free
Join us for a nourishing evening of music and culture that celebrates our rich local talents. From open mic to live performances, including jazz piano, poetry, live podcasts, drumming and more – there's something for everyone. All will be revealed on the night! Hosted by UBC Learning Exchange. Sign up for open mic at 5pm, first come first serve.
---
Song
WOODWARD'S COMMUNITY SINGERS
Thursday October 29, 6pm – 7:30pm
PHS Community Services Residences, 10th floor Sky Room, 131 W. Hastings
Free
Sing with the Woodward's Community Singers during The Heart of the City Festival. We are a fun, easy-going, drop-in choir. More campfire than cantata. No experience or auditions required. Enjoy songs from folk, popular and contemporary traditions. You are also welcome to just listen. We sing in the beautiful PHS/Woodward's Skyroom on the 10th floor: a room with a beautiful twinkling view.
---
Book Launch and Celebration
FROM THE HEART OF A CITY: Community Engaged Theatre and Music Productions from Vancouver's Downtown Eastside 2002 to 2013
Thursday October 29, 7pm – 9pm
PTC Test Kitchen, 739 Gore, 2nd floor
Free
Join Vancouver Moving Theatre and Playwrights Theatre Centre (PTC) to launch the book From The Heart of A City, a celebratory history and resource of community-engaged theatre and music productions created by, for and about Vancouver's Downtown Eastside between 2002-2012: I Love the Downtown Eastside; In the Heart of a City: The Downtown Eastside Community Play; Condemned – The Carnegie Opera; East End Blues & All That Jazz; We're All In This Together; The Returning Journey; A Downtown Eastside Romeo and Juliet; Bruce – The Musical; Storyweaving; and Bread & Salt.
Whether you're in the book or you were part of the audience of more than a decade of theatre and music productions – or just want to find out more about them – you are invited to celebrate the launch of the book edited by Savannah Walling, Terry Hunter and John Endo Greenaway. There will be a panel discussion on Community and Theatre, featuring contributing writers Renae Morriseau, James Fagan Tait, Ethel Whitty and John Endo Greenaway, moderated by Heidi Taylor (PTC) – followed by an opportunity to mingle and interact with "pop-up" mini-events, including art activity with special guest Ruth Howard from Toronto's Jumblies Theatre.
---
Theatre
FOR A MUSE OF FIRE
Thursday October 29, 8pm
InterUrban Gallery, 1 E. Hastings, entrance on Carrall Street
Also October 28 & 30
Tickets at the door, sliding scale: 5¢ to $20
See page Wednesday October 28 for full description.
---
Radio
ARTS RATIONAL
Thursday October 29, 9pm – 11pm
Live Broadcast Co-op Radio 100.5FM
This year's Heart of the City Festival is alive with theatre and as Jay Hamburger of Arts Rational says "go and see some live theatre today!" Live radio is the next best thing. This evening's broadcast features a live interview with Jim Sands, who will also perform excerpts from his theatre production "The Shakuhachi Quest: An Epic Journey into the Soul of Music" to be presented during this year's Festival. Also featured are members of the Carnegie Theatre Workshop who present a reading of "Gim and Ruby" an original short play by Sid Chow Tan, DTES community leader extraordinaire. As a simple slice of life, the play dramatizes early sparks of love in Battleford, Saskatchewan. Tune in to a program that is sure to be fascinating.