Don't forget: The clocks go back this morning! Enjoy an extra hour's sleep before you head out to the Festival.
---
Mass
ALL SAINTS' DAY MASS
Sunday November 1, 10:30am
St. James' Anglican Church, 303 E. Cordova
Everyone welcome
Visit with the congregation of St. James' for a glorious All Saints' Day Solemn High Mass and Procession to celebrate the Saints of Christendom with pageantry and age-old ritual. For those not used to high church liturgy, this is a chance to bathe your senses. On high holy days such as this, even the incense is special! Hear the full St. James' Choir sing Palestrina's Missa aeterna Christi munera and Healey Willan's O King all glorious.
---
Walking Tour
STROLLING THE HEART OF THE CITY with John Atkin and Bob Sung
Sunday November 1, 10:30am (1½ to 2 hrs)
Meet at SE corner of Jackson & Alexander
$10; pay what you can for local residents
Join walking-tour masters extraordinaire John Atkin and Bob Sung for an extensive and entertaining tour of the historic areas of Downtown Eastside, Strathcona and Chinatown. Stroll the Heart of the City and explore the sites of Oppenheimer Park, Lord Strathcona Elementary School, Chinese herbal medicine stores, pastry shops, bbq meat stores and the tranquil Dr. Sun Yat Sen Park. After the tour, John and Bob will head to the Jade Dynasty Restaurant for a no-host dim sum lunch ($15 per person).
---
Art Talk
WALL OF JOY with Eyoälha Baker
Sunday November 1, 11am (approx. 1 hr)
Meet at SE corner of Abbott & Pender
Free
Artist and project leader Eyoälha Baker will share her experience creating the Wall of Joy mural installed on the West wall of The Arco Hotel at 81 West Pender. The public art installation is a paste-up collage of 6ft x 6ft posters of photographs of approximately 300 people "Jumping for Joy" all around Vancouver. The project is about uplifting ourselves and others, taking a positive perspective on life, and spreading JOY. Created in partnership with Atira Women's Resource Society and partially funded by BC Housing. Thanks to crowdsourcing, grants, donations and volunteers the project was installed August 2015.

---
Community
PIGEON PARK PROUD
Sunday November 1, 11am – 3pm
Pigeon Park, NW corner of Carrall & E. Hastings
Free
Since August 2015, Vancouver Moving Theatre in partnership with Downtown Eastside Centre for the Arts and in cooperation with Portland Hotel Society/Culture Saves Lives, has produced arts activity every Sunday in Pigeon Park. This free activity features photographing and portrait drawing of over 300 local people, and providing multiple beading, drawing, graffiti art, jewelry making workshops along with poetry and music presentations. Come down and enjoy the arts activity in the Park! On this Sunday we will present special surprise performances at 12pm and 1:30pm. All welcome.
---
Music
SUNDAY AT THE INTERURBAN
Sunday November 1, 12:45pm to 4:30pm
InterUrban Gallery, 1 E. Hastings, entrance on Carrall
Free
Come to the InterUrban for a wonderful afternoon of music from some of the communities' favourite performers.
12:45pm Michael Edwards, a stalwart at Oppenheimer Park, opens the show with original and alternative folk rock in a bluesy-jazzy mix.
1pm Rose Shraa Ttha Siccama and David Stone of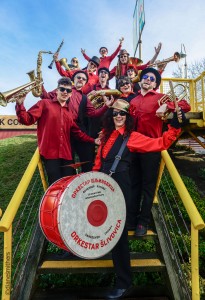 RedSoulBluez take the mic. Rose, a Northern Tutchone singer, songwriter, musician, poet and artist, has been creating and living on Coast Salish Territory, aka Vancouver, BC for over 20 years and David is a multi-award winning, platinum and gold recording artist and musical wizard.
2:15pm we welcome Beaver T and the Divas; that is Beaver Thomas, a fabulous Cree guitarist who grew up playing at Carnegie and has been a professional musician since he was old enough to be on the road, with local singer/musician Murray Black, and Peggy Wilson, everyone's favourite bass player and harmonic vocalist. We look forward to a set of classic country, rock, blues, jazz and more.
3:45pm Orkestar Slivovica will cap the afternoon in the InterUrban. The Balkan Brass ensemble plays and sings a diverse repertoire, from insanely fast dance tunes to heartwrenching songs, often in crooked rhythms and exotic scales. Sure to be an exciting afternoon!
---
Song
SOLIDARITY NOTES LABOUR CHOIR
Sunday November 1, 1:30pm – 2pm
Woodward's Atrium, 111 W. Hastings
Free
Solidarity Notes Labour Choir is a group of activists who know that music is more than pleasurable sound: it is a powerful language that educates, connects and reminds us of our strength and history. The ongoing struggle for labour and human rights has produced music that inspires and reconnects us to hope and possibility. Solidarity Notes sings at rallies, picket lines, performances, memorials and sky train stations, throughout Vancouver and other spots in the Lower Mainland wherever the message is needed.
---
Story
STEALING LIGHT: STORIES OF TRANSFORMATION

Sunday November 1, 2pm – 3pm
Dr. Sun Yat-Sen Classical Chinese Garden, 578 Carrall
By donation to the garden
In this remarkable solo show Stealing Light: Stories of Transformation, Columpa C. Bobb (Artistic Director, Urban Indigenous Theatre, Winnipeg) enacts the story of a long-ago greedy chief who hoarded and would not share the life giving light of the stars, moon and sun. Raven stole these gifts from the power hungry chief and set them free for all people. Weaving stories and wisdom from her ancestors (Columpa is a great-granddaughter of Chief Dan George) mixed with contemporary stories of the wounded earth today, Columpa calls for Raven to once again steal the light.
---
Outdoors
MUSIC IN THE STREETS
Sunday November 1, 2pm, 3pm & 4:30pm
Starts at InterUrban Gallery, 1 E. Hastings
Free
Get your dancing shoes ready. It's music in the streets! This year the Heart of the City Festival presents two different bands for your dancing in the streets pleasure –
2pm & 3pm the Hastings Street Band leads with their upbeat New Orleans style jazz and blues. Led by multi-instrumentalist and composer Brad Muirhead, the Band is composed of enthusiastic Downtown Eastside involved amateur and semi-pro musicians playing with professional musicians from across Vancouver.
4:30pm Orkestar Slivovica takes the streets in their first appearance at the Festival. We are pleased to present Vancouver's own Balkan Brass band, led by Oliver Schneider, playing Roma-influenced wedding and festive music from Serbia and Macedonia where no such occasion is complete without it.
---
Work-In-Progress
CARNEGIE DANCE TROUPE & KAREN JAMIESON DANCE
Sunday November 1, 4pm – 5pm
Djavad Mowafaghian World Art Centre, SFU Woodward's, 149 W. Hastings
Free
Experience and enjoy the Carnegie Dance Troupe and Karen Jamieson Dance in action! This informal work-in-progress presentation is a great opportunity to see the beginning stages of a new dance piece slated for premiere in 2016; and to witness people of all ages, cultures and abilities working together to create a work of art. Presented in partnership with Carnegie Community Centre and SFU's Vancity Office of Community Engagement.
---
Music & Dance
BARRIO FLAMENCO: Flamenco for the People
Sunday November 1, 7pm – 10pm
The Ironworks, 235 Alexander
By donation at the door
Celebrate the spirit of the Downtown Eastside with an unforgettable evening of live flamenco music and dance! Flamenco is an art form by and for the people, danced and played with spirit, ferocity, laughter and tears. It was born in the taverns and living rooms of the barrios, or poor neighbourhoods, of Southern Spain – a song of the street, a cry, and a celebration.
Hosted by flamenco artist and teacher Kelty McKerracher, Barrio Flamenco features some of the most compelling flamenco dancers, singers and musicians in the city, alongside the Carnegie DTES Flamencos. This year Kelty hosts, direct from Spain, singer Naike Ponce, in her first Canadian appearance.
Also featured this evening are guitarist Peter Mole, singer Farnaz Ohadi, dancers Michelle Harding, Andrea William, Maria Avila, young favourite Sophia Ludwig, and many more!
To celebrate Dia de los Muertos or Day of the Dead, our Barrio Flamenco includes a shrine to honour those who have gone before. On the night when the divide between this world and the spirit world blurs, join us for this exciting juerga (flamenco party) to laugh, play, pray, cry, enjoy and stamp your feet!
An annual venue-packed favourite. Olé!