Art Market
EASTSIDE ARTISTS COMPANY
Saturday November 7, 10am – 5pm
Woodward's Atrium, 111 W. Hastings
The Eastside Artists Company holds regular Saturday art markets inside and outside the Atrium at Woodward's. The initiative provides a place for Vancouver artists and artisans to display and sell their work. Diane Johnston, owner and operator of the company, is passionate about the opportunity for artists to be self-sustaining in the Downtown Eastside. Come to the Saturday market and see what the artists have for sale. For more information phone 604-616-5531.
---
Open House
VANCOUVER POLICE MUSEUM
Saturday November 7, 10am – 5pm
Vancouver Police Museum, 240 E. Cordova 2nd floor
Free admission
See November 6 for details.
---
Poetry
POETRY AT THE CARNEGIE
Saturday November 7, 10am – 9:45pm
Carnegie Centre, 401 Main
Free
A full-day of poetry-related events, including workshops, slam event, open mic, and readings. See Poetry at the Carnegie for full schedule.
---
Showcase
SUNSHINE CHOIR
Saturday November 7, 11am – 11:45am
Oppenheimer Park, 488 Powell
Free
The Sunshine Choir is a regular program at Oppenheimer Park where seniors get together to share their love of singing and their love of community. They sing in Mandarin, English and sometimes Japanese. This delightful community choir has performed at Oppenheimer Park Cherry Blossom Festival and other community events in the Downtown Eastside. Join the choir today and listen as their voices come together in an enthusiastic sharing of song. Everyone welcome.
---
Art Walk
WALK AROUND THE BLOCK with Brian McBay
Saturday November 7, 11am (approx. 90 minutes)
Meet at 221A, 221 E. Georgia
$10; pay what you can for local residents
Art plays a role in social transformation. The city block bound by E. Georgia, Main, Union and Gore is experiencing this right now as independent art galleries and arts organizations have recently made their home around the block, new businesses have opened, and longtime business mainstays have shut down. Join artist, designer and 221A curator Brian McBay for a walk around the block that is a microcosm of the larger neighbourhood. Brian will talk about the role that arts can play in our community as we go through intensive change. The walk will stop at Vancouver Especially (A Vancouver Special scaled to its property value in 1973, then increased by 8 fold) by Canadian artist Ken Lum at 271 Union, 221A's new outdoor site.
---
Meet the Artist
THIS OLD TOWN Ryan Lundy
Saturday November 7, 1pm – 5pm
Gam Gallery, 110 E. Hastings
Exhibition October 24 to November 22
Free
Ryan Lundy is a screen printer who has worked in several shops that deal both in large- and small-scale textile and art print production. His artistic practice involves screenprinting photographs on paper and wood panel using a halftone technique similar to that found in historical newspaper printing. With a focus on the area around his studio in the Downtown Eastside, This Old Town features images of Vancouver from the early 20th century, including the development of the now defunct interurban tram lines and historic moments such as the 1912 visit of the Duke and Duchess of Connaught. Meet Ryan and share in his interest in glimpses of the past. Gallery hours: Fri and Sat, 1pm – 5pm and by appointment; www.gamgallery.com
---
Reception & Exhibition
TELLING STORIES, A VISUAL ARTS EXHIBITION
Opening: Saturday November 7, 2pm
Chinese Cultural Centre Museum, 555 Columbia
Exhibition November 7 to December 19
Free
Nine Vancouver visual artists of BestB4 Collective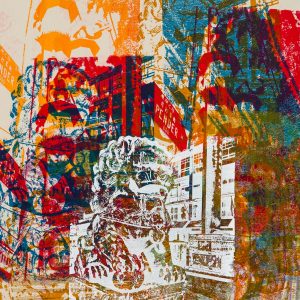 open Telling Stories: a visual art exhibition, in collaboration with six other artists and community members. The gallery will be transformed into a meeting place where photography, painting, ceramics, fibre and video installations tell and evoke stories. The stories offer a starting point for a series of events to invite dialogue about essential contemporary questions between the artists, the Chinese community and other cultural groups. Activities throughout the exhibition include a Tea and Storytelling party, workshops in clay and printmaking, and a story exchange between youth and elders. Gallery hours: Tuesday to Sunday, 11am – 5pm. For more information: 604-658-8880 or www.cccvan.com. Admission to the Gallery is free; donations welcome.
---
Performance
REGULAR EXPRESSIONS: DEBATE COMPETITION
Saturday November 7, 2pm
221A, 221 E. Georgia
Free
Xiaoshi Vivian Vivian Qin, one of the presenting artists in the exhibition Regular Expressions at 221A, hosts the Debate Competition, a collaboration with University Hill Secondary School. Through the fine art of rhetoric, the debaters will answer a question to be posed by the artist.
---
Art
MR. FIRE-MAN PAINTS A PICTURE: Live Painting Tea House
Saturday November 7, 5pm -10pm
InterUrban Gallery, 1 E. Hastings, entrance on Carrall
Free
The Festival is pleased to present something a
little different; something a little unexpected and improvised. David Gowman is Mr. Fire-Man and he paints a picture. 'In a hall, at the back, beside the music, local painter performs: Pacific Northwest landscape class: an oil painting step by step.' Musical guests: Idverb (Brad Muirhead, trombone plus composition/musical direction; Lisa Miller, piano; Chris Kelly, electronics; Kedrick James, text/spoken-word artist) will wax poetic with a kaleidoscopic collage of spoken word and music. Following their two hour set, the horn section of The Legion of Flying Monkeys will close the evening with an exploration of sound and rhythm.
---
Song
CARNEGIE SING ALONG CHOIR
Saturday November 7, 6:30pm – 9:30pm
Carnegie 3rd floor Gallery, 401 Main
Free
The Carnegie Sing Along Choir, led by local guitarist Mike Richter, meets regularly twice a week to raise their voice in song. For the Festival they bring the regular session to you, the audience. It's a choir! It's a sing-along! Pull up a chair, find the lyrics or the sheet music, and raise your voice with the Sing Along Choir. We are harmony!!
---
Community Celebration
ASHKENAZI!
Saturday November 7, 7:30pm – 9:30pm
Floral & Hardy Edible Plants, 688 E. Hastings
Free
A little bit of music, a little bit of stories, a little bit of bagels! This year, the creative spirits at Floral & Hardy are celebrating Ashkenazi, a festival of central European diasporic Jewishness. Rachel Mines, born and bred in Vancouver, will read from the stories of Abraham Karpinowitz (translated from Yiddish by Helen Mintz). These stories portray the dreams and struggles of the poor and disenfranchised Jews of Karpinowitz's native Polish city before the Holocaust. The ensemble Der Royshiker Krokves (The Creaking Planks) featuring accordionist Rowan Lipkovits and cellist Chris Rzepa, will in turn weave their music between the stories. How to describe their music? They say it's "an exciting collision between traditional [klezmer] music lifted directly from a bygone age and popular modern music undreamt of by the engineers of their old-timey instruments." Donations collected to sponsor a Syrian family. Everyone welcome!
---
Special Event
ALL OF ME: An evening with Dalannah Gail Bowen and Friends
Saturday November 7, 8pm -10:30pm
Ukrainian Hall, 805 E. Pender
$10 regular/$5 concession at the door

The Downtown Eastside's own Dalannah Gail Bowen has been music-making for over 45 years and for the last 15 years she has been a dynamic advocate for community; she has been an integral part of the DTES Heart of the City Festival since day one and she was recently honoured as 'Master Blues Artist' in the Blues Hall of Fame. Congratulations Dalannah!
The Festival has the honour of presenting an evening devoted to Dalannah Gail Bowen and her truly unique and powerful voice, described as 'Billie Holiday meets Howlin' Wolf.' The musical line-up is stellar: Simon Kendall on piano, Rene Worst on bass, Chris Nordquist on drums, Dave Say on saxophone, Jim Salmon on percussion, with backup singers Jessi Nicholson, and Carlos Arias. For the second half of the evening, Owen Owen Owen is on bass. Join Dalannah and friends for an evening of jazz, blues and gospel; an evening not-to-be missed!
---
Television
CARNEGIE TV DOWNTOWN VARIETY SHOW
Tuesday November 7, 11pm – 12am
Also November 2, 3 & 8
Shaw Cable 4
See Monday November 2 for description.